Controlled Payment System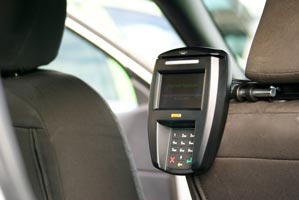 You control the payment. No handing money to the driver with our new backseat systems designed to offer convenience, reliability and security. Our customers love them!
This real-time integrated payment and information system features a Passenger Information Monitor with a touch screen that allows passengers to review the fare, add a tip and pay by swiping a credit card through a reader or using "tap and go" contactless payment.
It is the way to pay, Your card never leaves your hand!